Speaker: Dr. Mohammad Hoque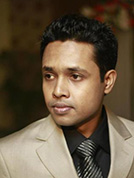 Title:
Cognitive Data Analytics Platform (Slides)
Abstract:
Big data applications are very resource consuming by nature. This research aims implementing an adaptive computing platform which ensures optimal resource utilization by the Big data applications. It estimates, validates, and optimizes the resource allocation in every step of the Big data applications. At the same time, it also assists researchers to optimize their data analytics applications.
Bio:
I am a Postdoctoral Researcher in HIIT/University of Helsinki. My research focus is Data Analysis and Resource Adaptive Big Data Framework. I am also exploring the energy efficiency of applications to hardware properties in mobile devices. I did my Masters from Aalto University in Mobile Computing in 2010. From the same University, I completed my Ph.D in Energy Efficient mobile multimedia communication in 2013.