Speaker: Dr. Demetris Zeinalipour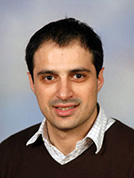 Title:
Spatial Big Data Research and Applications at the University of Cyprus (Slides)
Abstract:
Spatial big data architectures have transformed the way enterprises collect, store and analyze massive amounts of velocity data that features a spatial extend. In this talk, I will summarize an array of research problems and applications that our laboratory has investigated or aims to investigate in this scope. I will start out by overviewing Anyplace (http://anyplace.cs.ucy.ac.cy/), our in-house Internet-based Indoor Navigation service that won several international research awards for its accuracy and utility. Particularly, I will discuss the challenges in processing and visualizing indoor big data (e.g., Wi-Fi and magnetic signals). My talk will be succeeded by a summary of Rayzit (http://rayzit.com/), which is our award-winning location-based crowd messaging service that allows a mobile crowd to instantly connect to their k Nearest Neighbors (kNN) as they move in space. I will particularly summarize Spitfire, which is a distributed algorithm that provides a scalable and high-performance All k Nearest Neighbor processing framework to Rayzit. I will then overview Spate, which is a novel spatio-temporal time machine for telecommunication data (e.g., CDR, NMS, PCHR). Spate supports a range of visual analytic cues (heatmaps, POI clusters, etc.) that enables a Telco operator to quickly compare abstract models to real velocity data but also to monitor and replay network traces using a declarative SQL language that breaks down to SPARK jobs. I will finally also introduce GreenCharge, which is a big data GIS architecture to guide electric vehicles to green energy excess. GreenCharge is expected to maximize self-consumption of electricity by prosumers, contributing in that way to the stability of power grids and a sustainable future. GreenCharge is anticipated to be pilot at the University of Cyprus, a self-sufficient 17GWh/annum producer of solar electricity.
Bio:
Demetris Zeinalipour is an Assistant Professor of Computer Science at the University of Cyprus, directing the Data Management Systems Laboratory (DMSL). He holds a Ph.D. (2005) and M.Sc. (2003) in Computer Science and Engineering from the University of California - Riverside (USA) and a B.Sc. in Computer Science from the University of Cyprus (2000). Before his current appointment, he served the University of Cyprus and the Open University of Cyprus as a Lecturer of Computer Science. He has also been a Visiting Researcher at the Network Intelligence Lab of Akamai Technologies, Cambridge, USA (2004), a Marie-Curie Fellow at the University of Athens, Greece (2007) and a Visiting Researcher at the University of Pittsburgh, PA, USA (2015). During 2016-2017 he will be on a sabbatical at the Max Planck Institute for Informatics (MPI-INF), Saarbrücken, Germany. His primary research interests include Data Management in Computer Systems and Networks, particularly Mobile and Sensor Data Management; Big Data Management in Parallel and Distributed Architectures; Spatio-Temporal Data Management; Network and Telco Data Management; Crowd, Web 2.0 and Indoor Data Management; Data Privacy Management. He is a member of ACM, ACM SIGMOD, IEEE and USENIX.